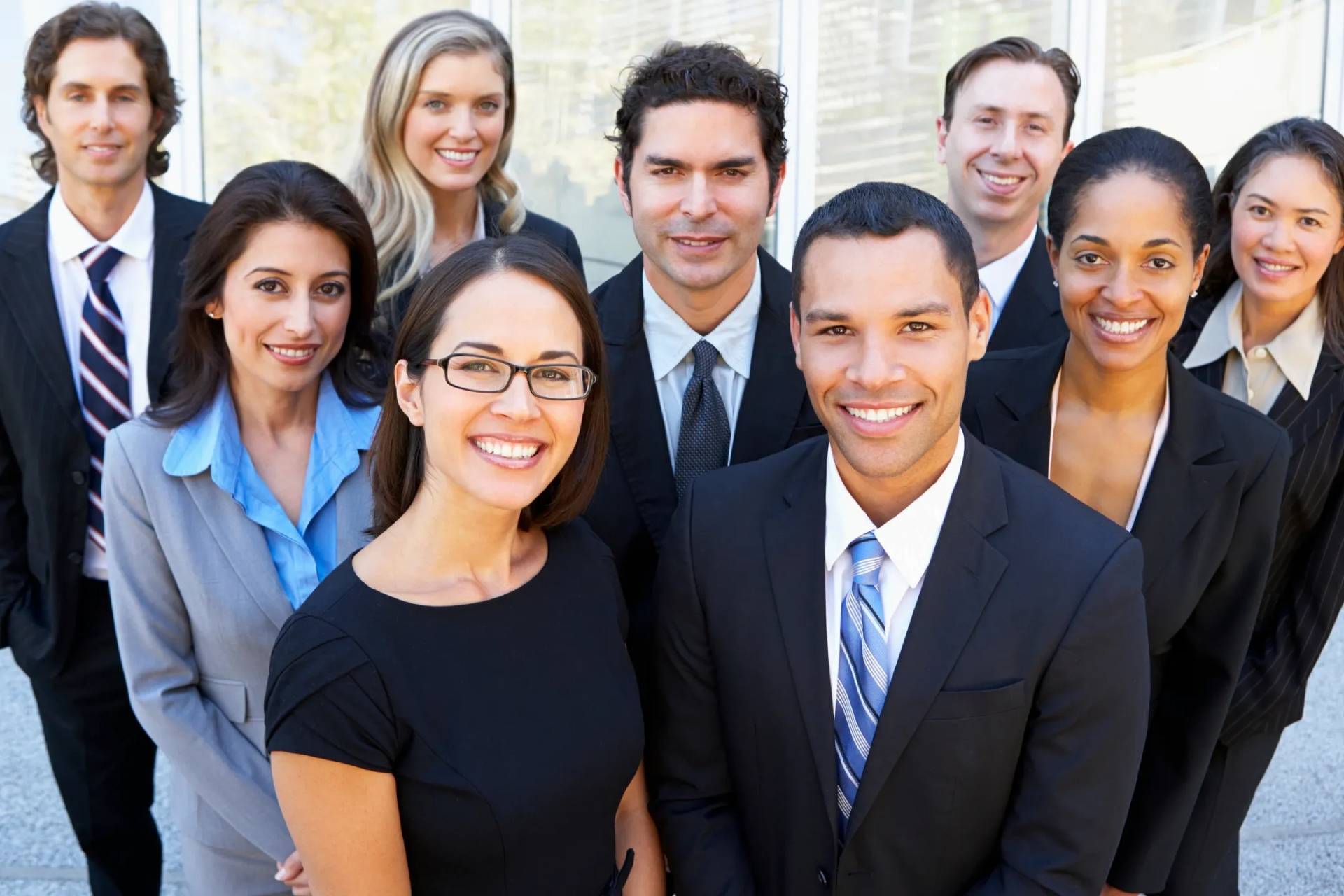 Strategic Change Demanded Clear Communication:
After The Consulting Team facilitated a strategic planning workshop, the organization's planning committee asked us to coach them to communicate 
proposed changes effectively. We helped them develop a plan that provided specifics of what, when, and how
to communicate to all staff and stakeholders. The organization was then able to roll out their strategic plan with assurance, collaboration, and success.
Merger Nightmares:
Two similar departments merged to remain viable and better serve the public. Concerned about the effects of different internal processes, the director of the newly combined department tasked The Consulting Team to ease the transition. We facilitated aligning mission, vision, and values. We created common expectations through training and communications coaching. The new entity proceeded with confidence and clear strategic direction to complete a successful merger.
Overwhelmed as a New Manager:
A senior technical analyst was promoted to management with a significant increase in responsibility. He was seen as highly competent and responsible. However, his challenges included being seen as someone who overworked himself with too much focus on details and the lack of a leadership mindset. At the same time, the department had been through years of turmoil, and its mission was significantly expanded. He selected a TCT coach because of our experience moving people through this kind of transition. We developed an agreement expressing his vision for success in this new role, including what he needed to do and who he needed to work with to be to be successful. One critical step was coaching him to let go of the old job and boldly assume his new leadership and management role in terms of working through others, process improvement, leadership presence, delegating, coaching, and mentoring. He has received high praise for results and has a promising long-term career in management.
Newly Promoted Leader Needs Emotional Intelligence:
A team leader received a recent internal promotion to a new high-level position that was full of challenges. He had a steep learning curve, a heavy workload, and his current position couldn't be filled for six months so the client was doing two demanding jobs simultaneously. We provided coaching on Emotional Intelligence approaches, which helped him significantly in all areas. Many of his staff members now see the new leader as "a rock star;" where they used to find him intimidating. His challenges continue in some areas, but applying the tools of EI has made a real difference in his approach and success. The client can't believe how much progress has been made.
First Aid for a Bossy Supervisor:
The head of a utilities district called The Consulting Team for help with a new supervisor. Although he showed high potential in technical matters, his dictatorial management style created problems for his team and the organization. We coached him on the basics of supervision, developing trust and respect with his team, and practicing listening skills to resolve and defuse conflict. A three-month check-in found the supervisor excelling in his job and back on track with his boss's expectations.
Leader Inherits Rebellious Team:
A long-term client recently took over a major government agency impacted by eroded trust and unresolved personnel and work issues. He called on The Consulting Team to blast through smoldering resentments and help him forge a new start. We created a safe environment in which we facilitated an exercise that cut through the trust concerns and underlying contentions. The group dynamics shifted immediately to re-form a healthy, productive team.
New Leader Needs Buy-in:
A new attorney, promoted from within his organization, needed his team's commitment to collaborative management and improving key processes. He asked The Consulting Team to facilitate a three-day planning session. We guided the leadership team through a series of discussions, helping them to develop strategic questions, to explore new ways of thinking, and formulate concrete actions plans. The team reported they were energized by the results and squarely behind their new leader and the team.
City Manager Struggles with New Council: The new City Manager faced his first change of Mayor and Council members. He needed to get all on board quickly and gain buy-in to the city's effort to tame a tough budget. The Consulting Team crafted a team building agenda that focused on the city's annual accomplishments. Emphasis was on advances by all departments through teamwork with each other and the community. We laid the groundwork through exercises and issue-related dialogues. A solid relationship was formed with the newly elected officials.
Accomplished Police Captain Lacks People Skills:
We were hired by an unhappy Police Chief to coach one of his Captains, an extremely accomplished and highly educated officer whose only focus seemed to be checking the boxes on his to do list. Because of some incidents related to his poor interpersonal interactions he was given a choice – coaching or discipline, which might have had some big career implications. He requested coaching. We began with a call to have him understand our coaching process and to get him comfortable. After we reached agreement on the way to proceed, we gave him a set of resources for reading and made a strong case for the importance of relationships. We also discussed the specific behaviors he needed to begin practicing. He was a great learner. After only a few coaching sessions, the client reported that a new world of personal relationship and connection had opened up for him. His productivity, happiness and job satisfaction increased greatly. His colleagues, direct reports and family all reported that it was like having a new friend.
Planning for Looming Retirements:
A new department head and his management team faced deep budget cuts and numerous imminent retirements. He needed to solidify his team to meet the challenges of the next few years. The Consulting Team facilitated their strategic planning session and gave them the tools to unite the team and make the right decisions. They called upon us to help revise their strategies three years later, and we found they had built a stronger department per the plan.
Taming a Disruptive City Council: City Council members were at odds with each other and the Mayor because of basic philosophical and political differences. Disagreements were impeding the council's decision-making and teamwork. The City Manager requested meeting facilitation from The Consulting Team. In a few meetings we established and maintained respectful ground rules and agreements and supported open discussion, which aided the Council to vote on important issues.
Physician Overcomes Her Team's Low Morale:
A physician from a large health care provider found her team's productivity and attitudes dropping. Her team consisted of other physicians, registered nurses, physician assistants, and other support staff. She hired us to interview each team member to assess the severity of the issues. She also asked us to give a communication assessment to each member. In the first team meeting, we set new team behavioral agreements, clearly defined roles and protocols, and addressed some of the unresolved conflicts. We provided executive coaching for the top physician and team coaching for the others. After a series of meetings and coaching sessions, everyone on the team reported improvements in morale, trust, and productivity.
Delivering Bad News Directly, Yet Kindly:
An experienced manager scheduled an evaluation of someone on her team which always included a self-evaluation by the team member. In this case, the team member filled out her part of the evaluation and gave herself "Outstanding" marks in areas that the manager thought should have been "Improvement Needed." The manager knew she would get pushback from her employee and anticipated an unpleasant confrontation. We coached her to be "direct and kind" and to prepare for the pushback in advance, thinking of all the things the staff member might say in her defense. The email we received after the coaching session said it all. The evaluation went smoothly, and her team member accept reality and the need for improvement. The coaching client said, "Coach, I couldn't have done it without you."
Supervisor Lost His Cool:
Inappropriate remarks by a supervisor to a staff member prompted a department head to request The Consulting Team to assess issues and coach the offending supervisor. The Consulting Team, using the EQi Emotional Intelligence 360˚ Evaluation, provided vital and useful feedback on how others perceived him. We gave individualized coaching to the man based on primary improvement opportunities. The supervisor reported he received support and new skills from the coaching session. His boss and the department head saw great improvement in both his attitude and job performance.
Taking Command in a Demanding Environment:
An executive and her staff had been demoralized by retirements, a stringent budget, and unresolved issues. The Consulting Team facilitated several team building sessions to develop strategic plans, practice better communications skills, and use tools to manage change. She and her staff gained a firm foundation and created strategic initiatives to rebuild a stable, productive department.
Years of Continual Change:
Personnel problems and organizational issues overwhelmed an agency after several years of drastic changes and funding cuts. Its director had The Consulting Team conduct a thorough assessment of the agency. We provided recommendations for personnel changes and spearheaded adoption of shared values and vision throughout the organization. We also created a Leadership Academy which we presented to all managers on change management, communications, team building, and performance development practices. The managers quickly applied their new skills to deal positively with upcoming changes.

"Dr. Manning was very responsive and handled a very sensitive matter very effectively, bridging significant cultural differences with tremendous expertise. Her work was thorough, and she was able to conclude the matter on time."

Linda Usoz
Attorney at Law, Stanford University

"Thank you for your funny, warm, and useful workshop at our Annual Harvest of Knowledge Partner Conference. You successfully created a dynamic and meaningful day for the 250 attending."
Susan Takalo
Director of Community Partnerships

"I have recommended Dr. Marilyn Manning, The Consulting Team, for the coaching of executives and employees in a wide variety of business settings. I have found her to be able to diffuse interpersonal problems and to successfully move employees toward collaborative engagement."
Sandra R. McCandless
Attorney at Law

"I think last week's session was one of the most beneficial we've had. 
It was a great environment for sergeants to openly convey their concerns/feedback. It was beneficial to hear it first hand, and I think the way you structured it was very productive and made them feel comfortable to open up to us.  I also took away a lot of positives to work on going forward."
Jon Bush
Interim Deputy Chief of Police, Administration Division, Santa Cruz Police Department

"Dr. Marilyn Manning, The Consulting Team, brings a skilled independent eye to your organization to thoughtfully access personality traits and leadership skills, both good and bad, and how to improve working relationships within your organization. She comes with tremendous passion for the subject matter and will challenge your thought process toward the greater good of the organization."
Bernie Escalante
Interim Chief of Police, Santa Cruz Police Department Interim